Rethink Your Walk
We get it - it's one thing to plan exercising into our daily schedules, it's a completely different thing to stick with the plan. So why not be smart about it? ILUUM wants you to rethink how effectively you are performing your most basic form of exercise - walking - because it comes naturally.

First things first: what do we mean by "rethink walking"? We mean: make it purposeful, make it a full body exercise by engaging your arms: give your business meetings an energy boost, burn extra calories on your way to get the groceries, boost your dopamine levels while exploring the city and nature with friends. Be smart about how you manage time for effective physical activity. 
Why practice walking with ILUUM poles?
Short answer: to make your walk purposeful!
At the end of the day, due to the minimal oxygen consumption and lack of muscle activation getting out from closed spaces after long hours at the office, music studio, university, home etc often leaves us feeling with little to no energy - it's where we tend to loose balance between energy use and consumption. It's easy to see how skipping workouts is quick to come.

Even if we do workout (simply walking/ running/ cycling), we usually don't think about our two legs doing most of the "work" and our upper body not getting enough workload. Walking with ILUUM poles gives your physical health the neccessary attention with minimal effort - you're making use of your basic form of exercise - walking, you're practicing a full body workout.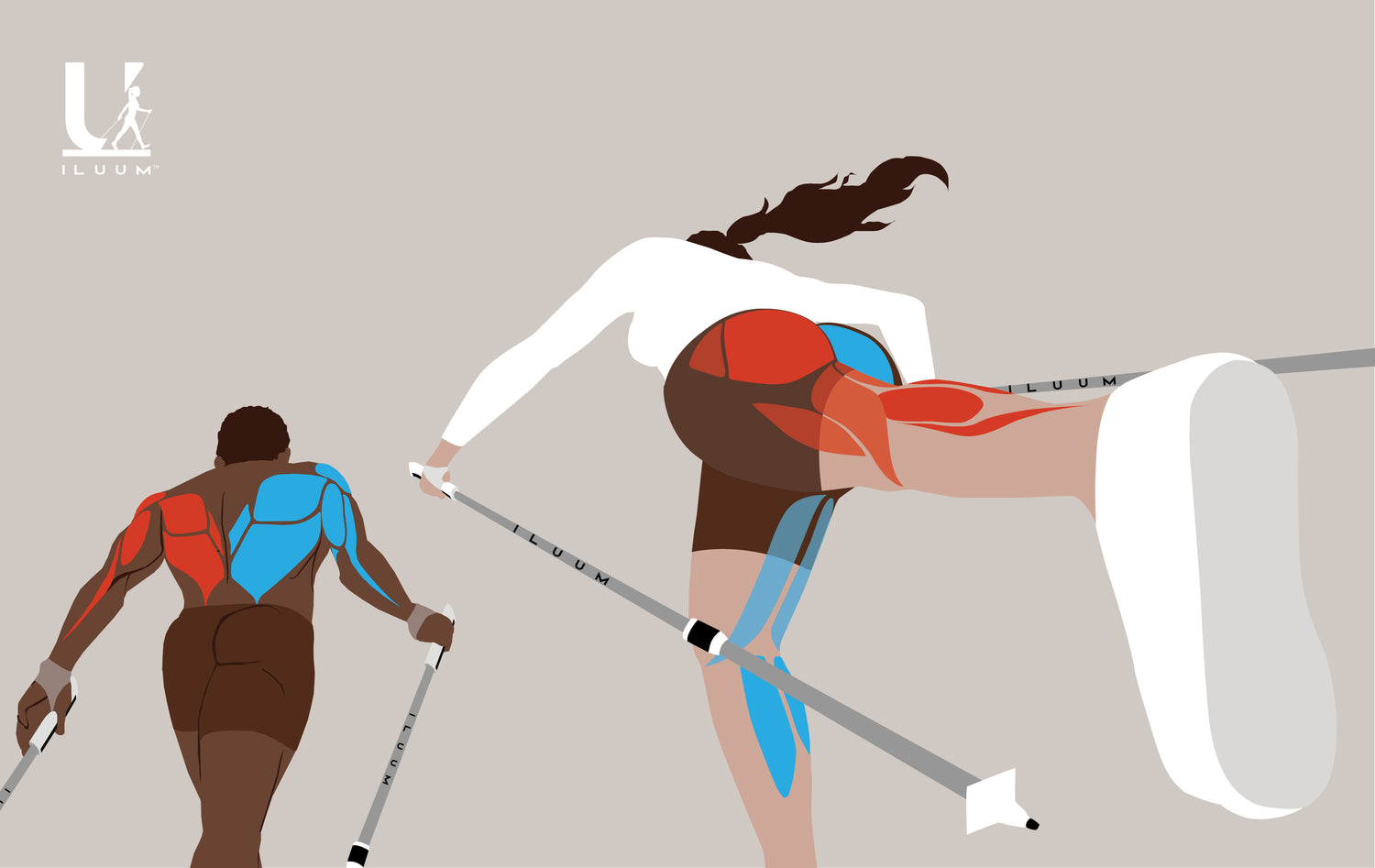 Suddenly your walk is purposeful!
How to use the ILUUM gear?
Follow these steps to ensure the best support from the ILUUM gear during your nordic walking session.
PUT ON THE STRAPS

Make sure you are wearing the straps according to your left/ right hand for it to provide the best support during your nordic walking session. Tighten the straps so you're comfortable.

ADJUST THE POLES

Adjust both poles according to your height by pulling out the lower part of the pole. Look for your height on the HECT measurement scale. Position the number right below the HECT connector.

FIX YOUR HEIGHT

Twist the upper and lower part of the pole in opposite directions until tightly in one place.

QUICK-LOCK CONNECT

Place the red QLS (quick-lock-system) of your strap into the side top of the pole handle. Push it with your thumb until it clicks into the handle. To release the QLS use your thumb to press down on red plastic.

CHECK THE SURFACE

Use asphalt paws at an angle as indicated in the picture to ensure good grip on hard surfaces. Take them off on soft surfaces (grass, sand etc).
Technique — How to get started?
The following is a step by step guide as written out by ILUUM on how to get started with the nordic walking technique.
DRAG THE POLES

As with any new practice, feeling slightly awkward at first is completely normal.

In order to get used to the new supporting poles in your hands (connected to the QLS strap), begin walking and start by simply dragging the poles (your hands not gripping the poles).

FOLLOW YOUR INSTINCT

A few steps into it, while the poles drag behind you start focusing on the rhythm of how you would naturally walk. Follow your walking instinct and let your arms/ legs lead your way. Practice until you feel confident you are "walking" as you normally would.

POLE "GRIPPING" POINT

Give some momentum to your rhythm by extending your step and swinging your arms slightly more. You'll notice how during each step when either of your arms swings to the front the pole finds a "gripping" point on the ground which is your que to use your arm to apply force on the pole which in return pushes your body forward. Repeat with the other arm.

UPPER BODY STRENGTH

Keep in mind it still looks like you're walking, except you are now using your upper body strength (burning extra energy) in addition to the work load that usually only your legs experience. Your walk is now purposeful. It should feel powerful.
Collapsible content
ENERGY EXPENDITURE

Energy expenditure during nordic walking can be up to 46% higher compared to walking.
OXYGEN INTAKE

Oxygen intake is 23% higher during nordic walking compared to walking.
PHYSICAL WORKING CAPACITY

Physical working capacity during nordic walking is up to 25% higher during nordic walking compared to walking.
INVOLVEMENT OF MUSCLE GROUPS

It has been detected that 80-90% of your muscle groups are in use during nordic walking.
MUSCLE ENDURANCE

The research shows muscle endurance increase during nordic walking.
BALANCE IMPROVEMENT

Practicing nordic walking regularly improves your posture.
RANGE OF MOTION

The range of motion of your limbs (in other words the movement amplitude) improves.
WEIGHT LOSS

There is a plethora of nordic walking research, which proves that exercising nordic walking regularly helps lose weight.
HEALTHY ON THE JOINTS

The use of poles during walking to push your body forward takes off the load from your knees.
CONTROL OF BLOOD GLUCOSE

Practicing nordic walking helps with the controlling of blood glucose levels.
REHABILITATION

In case of physical rehabilitation nordic walking is a great reducer of pain and injuries.